As a public community gallery for the 1000 Islands region located in downtown Brockville, our mission is to enhance visual literacy and provide vivid cultural experiences through engaging historical artistic traditions and innovative modern visual arts exhibits.
Non-fiction Reading Room Gallery
June – July 2019
LLGAMH Art Group
July – September 2019

Unmasking Brain Injury by Community Brain Injury Services
Fiction Reading Room Gallery
July – September 2019
Outdoor Perspective
ABOUT THE ART: Christine's premiere series, Outdoor Perspective, focuses on scenery and outdoor activities; paddling, biking and hiking. These photographs showcase landscapes throughout Canada and the United States, capturing the beauty of outdoors with bright saturated colours which inspires the viewer to continue exploring the unbeaten path. Quality printing, materials and framing was through the professional graphic designers at Poster Jack, Toronto, Ontario. All photos are taken with a Nikon D5200, with multiple Nikon lenses;
Wide Angle [AF-P Nikkor 10-20mm 1:4.5-5.6 G]
Portrait [AF-S Nikkor 50mm 1:1.8 G]
Telephoto [AF-S Nikkor 55-300mm 1:4.5-5.6 G ED VR]
Standard [AF-S Nikkor 18-55 mm 1:3.5 -5.6 G II VR]
ABOUT THE ARTIST: Christine Plume grew up near Brockville, moved away for a short time to pursue employment with KEEN Canada (outdoor footwear company), a dream job for anyone in love with hiking and the outdoors.
Currently, she resides in Brockville, working at Career Services of Brockville, as an Employment Developer, providing job coaching supports to people that have barriers to employment.
Her free time is spent walking the dogs, hiking and exploring trails in the 1000 Islands, plus cycling and canoeing the many waterways.
Christine appreciates the Brockville Public Library for showcasing her first photography exhibit, Outdoor Perspective
Check back soon for more information
Fiction Reading Room Gallery
September – November 2019
Abstraction in the 1000 Islands
In the artistic hub of the 1000 Islands, where realistic landscapes and portraiture are the predominant subject matter, there is a small pocket of artists that believe in being able to expand the viewers mind, go beyond the familiar, and seek out an alternate reality through abstraction. This group exhibition includes the work of: Robin Baker, Christina Chrysler, Diana Earle, Diane Godwin-Sheridan, Charles Low, Pam Warren Mckinnon, Brenda Miller, Fraser Radford, Laurie Sponagle, Maxwell Starshine, and Maureen Wharton. Expressing their views through a variety of media such as drawing, painting, photography, and encaustics, this exhibition invites the viewer to take a leap of faith into the unknown, and have a glimpse into multiple perspectives of the artist's mind.
This exhibition will be on display at the Brockville Public Library from September 3rd until November 30th, 2019. The opening reception will be held on Saturday, September 21st, 2019 from 1:00 – 3:00 PM.
Brockville Public Library accepts submissions for our exhibit programming roster. Established and emerging visual artists are invited to submit exhibition proposals. Preference will be given to local artists from the 1000 Islands area. The Library provides promotion through online and social media and offers the opportunity for an opening reception. The Brockville Public Library does not charge exhibition fees or commission on sales; however donations, either financial or in kind, are appreciated.
Note: We are currently seeking art to be displayed starting in April 2019. If you are interested in exhibiting your artwork in our galleries please fill out the Exhibit Proposal Form and submit to Brandy at brandy@brockvillelibrary.ca.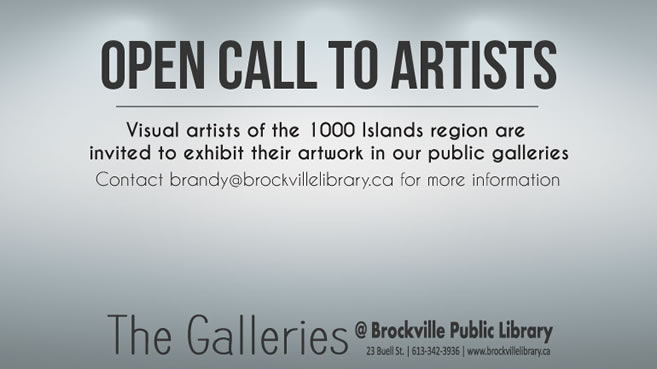 The Galleries @ Brockville Public Library holds a number of works of art on exhibit by historical and contemporary Canadian artists, including Lawren Harris, R.H. Lindsay, Richard Jack, Frederick Coburn and Percy Woodcock who were integral artists in the Brockville Arts School from 1886 to 1898.