We can help you pick out your next good read.
Not seeing what you're looking for? Drop us a line and we'll help you find the perfect item!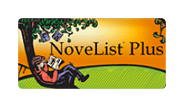 A fiction database providing subject heading access, reviews, annotations, and much more for over 135,000 fiction titles. It also includes other content of interest to young fiction readers, such as Author Read-Alikes, Book Talks, Grab and Go Book Lists arranged by grade level, and book discussion guides.