January 12, 2021
Update
Taking into account the Provincial announcement, the Library will be able to continue to offer the programs and services as announced on December 29, 2020.
December 29, 2020, 10am
The Library will temporarily be offering:
Curbside pick up for Library items. Items can be placed on hold online, by phone (613-342-3936 ext.6401), or email (info@brockvillelibrary.ca). Please see our Curbside Pickup page for more information.
Facemasks must be worn when picking up items. We will be collecting names for contract tracing purposes.
Our external drop box in the carport on George Street will still be open for returns.
Online programs and services will continue to be available. See our online resources page for more information.
We are temporarily suspending the following:
Public computers
Printing and copying services
In-library browsing of the collection will be unavailable at this time.
Public bathroom access
Thank you for helping us do our part to stop the spread of COVID-19.
September 1, 2020, 10am
The Library will be open to the public Tuesday to Saturday, 10am – 4pm.
Customers will be able to enter the Library in select areas: the Buell Room, the first floor circulation and DVD area, and the first floor public washrooms.
In-person browsing and borrowing of select Library items.
A selection of all Library collections will be available in the first floor circulation and DVD area for browsing and borrowing.
All Library items not on our browsing shelves can be requested at our new (temporary) Information Desk on the first floor in front of the children's section.
A staff member will be happy to retrieve the item(s) for you or, if you don't want to wait, you can place a hold on the item(s) and come back to pick them up later.
Curbside pick up service will end. Customers will be able to place holds and pick them up at the Circulation Desk during open hours, no appointment necessary. Please remember to bring your Library card.
Home delivery options are available for those who are unable to come to the Library.
InterLibrary Loans (ILLs) are available for items we don't have in our collection. Please note that there may be some delays receiving items through ILL.
Our computer lab in the Buell Room is still available.
We have four (4) public computers available, 30 minutes per person per day.
Printing, copying, faxing and scanning are available for a fee.
Black and white or colour printing; debit, credit or exact change.
Public washrooms on the first floor, including the accessible washroom, will be available for the public during open hours.
All items must still be returned at our external drop box on the George Street side of the building. The drop box is available 24/7.
Online resources and services, including eBooks, continue to be available.
Face masks or coverings must be worn by the public while in the building, unless you are exempted from wearing one as outlined by the Leeds, Grenville and Lanark District Health Unit.
Library staff will be using a combination of face masks and/ or physical (acrylic) barriers for your protection.
Please sanitize your hands at the designated table upon entering the Library.
If you are unable to use hand sanitizer, please use the public washrooms to thoroughly wash your hands.
Library staff will be sanitizing high touch surfaces every 2 hours, as per Health Unit guidelines.
Please follow all instructions of staff while you are in the Library.
We appreciate your understanding and patience while we work to safely provide services. If you have any suggestions or comments, please let us know by emailing ceo@brockvillelibrary.ca; your feedback is important to us.
Welcome back! We look forward to seeing you.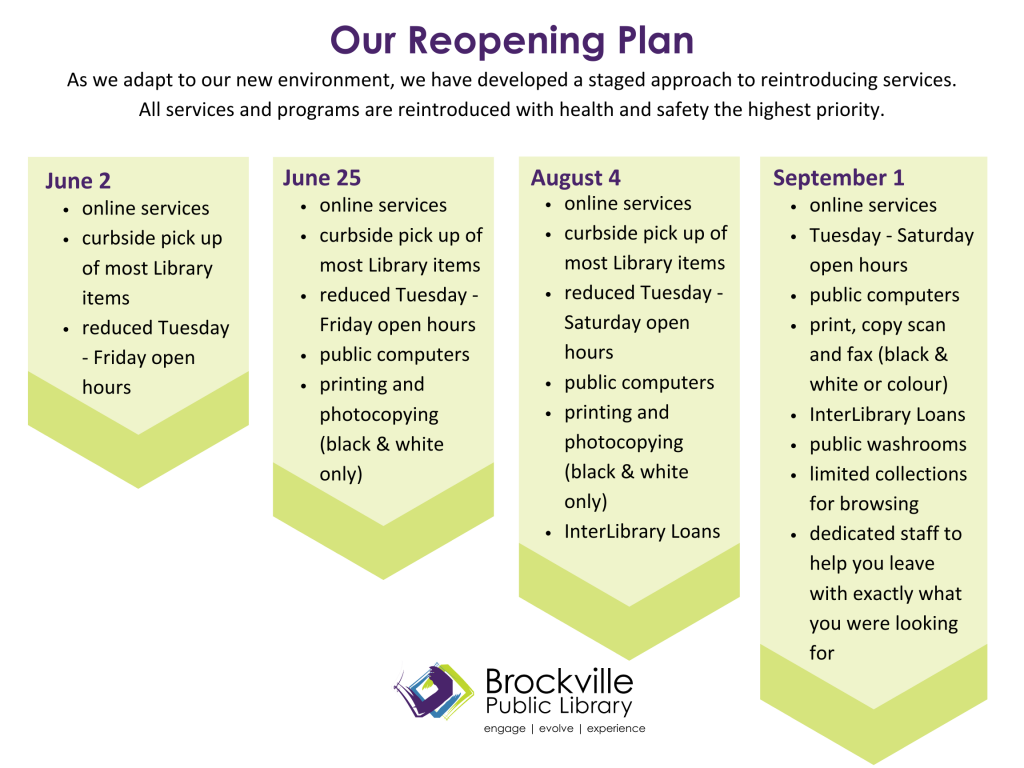 August 4, 2020, 10am
The Library is now offering:
increased time for public computer access (up to 30 minutes a day)
one additional public computer station
InterLibrary Loans
Saturday curbside pick up and computer lab hours.
June 26, 2020, 10am
The Library is now offering limited public computer access for free and printing and copying services for a fee. Please see our Computer Services page for more information.
June 2, 2020, 10am
The Library is now offering curbside pick up for Library items. Please see our Curbside Pick Up page for more information.
May 26, 2020,  9:45am
The Library's external book return has now reopened. All items returned will be isolated for 72 hours.
The Library will continue to suspend late fees and due dates until we reopen our doors for the public.
The book return is located in the carport on George Street and will be open 24/7.
April 5, 2020,  5:00pm
The Library is closed until further notice. All programs, meeting rooms, and exam booking are cancelled during that time. All due dates have been extended, there will be no late fees during this time and we have frozen all holds so they will be available for you when we reopen.
Please check back periodically as we will post updates here and on our social media accounts if anything changes.
While we are closed, feel free to check out our online resources.
Looking for local information about COVID-19? Check out the The Leeds, Grenville & Lanark District Health Unit's page (https://healthunit.org/coronavirus/) for information, updates, and how you can help reduce the spread of germs.