Library cards are free to anyone who lives, attends school or pays taxes in Brockville. With your library card, you can:
Borrow books, movies, video games and magazines
Borrow museum passes, board games, snowshoes and other recreational items
Download eBooks, audiobooks and music
Access online learning and research resources
Register for our community events and programs
Use our public computers, Internet and printing services
Borrow accessible materials in large print, DAISY and talking book formats
Children under 14 must have their card signed by a parent or guardian.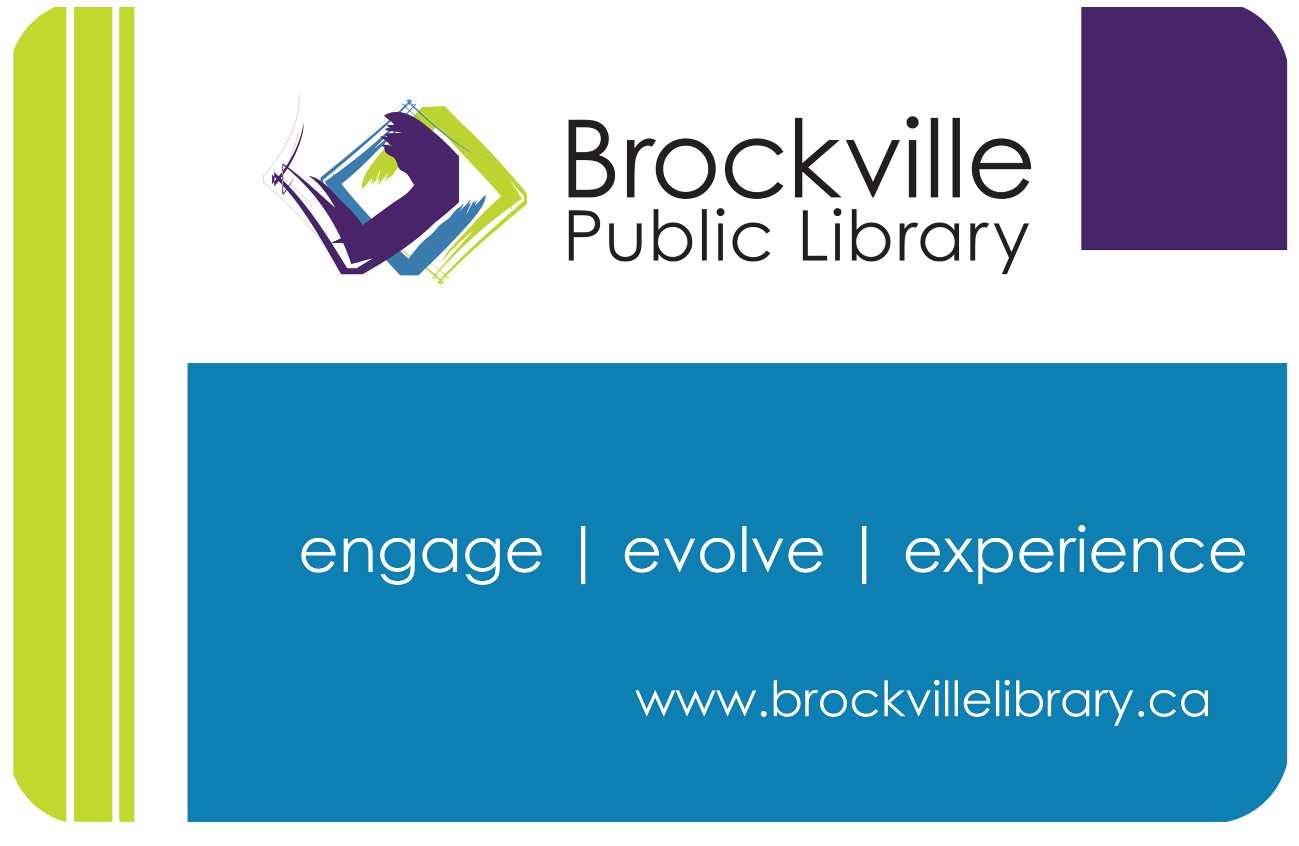 Joining the Library
For immediate access to the Online Library, sign up online for a temporary library card (valid email address required).
Upon successful completion, your temporary Library Card Number will be sent to your email address. To transfer your temporary card to a permanent library card and borrow our print books, DVDs, and our other physical collections, please read the instructions below and contact the library.
If you already have a library card, do not register here. Instead, login with your current library card or contact us for assistance.
Want to skip this step and go straight to a permanent library card? Read the requirements below and contact us or visit the library.
Joining the Library
To get a permanent library card, we require proof of identification (ID) and your current home address.
Acceptable Identification
Health Card with photo
Citizenship card
Passport
Student ID card
OAS (senior's card)
Employer issued photo ID card
BYID (from LCBO)
Firearms card
Native Status card
Acceptable Proof of Address
Bank account statement
Utility bill
Motor Vehicle Permit
Mortgage, rental or lease agreement
Property tax assessment
Insurance policy
School, college, university report card or transcript with address
Void cheque showing name, address and phone number
Addressed envelope cancelled by the post office
Types of Library Cards
Cardholder Classification
Borrowing Limits/Time per card (books)**some resources have different borrowing schedules
Brockville Resident & Children
Free (included in your taxpayer dollars)
No – we are fine-free!
Brockville Taxpayer & Children
Free (included in your taxpayer dollars)
Non-Resident (individual) & Non-Resident Student attending a school outside Brockville & Organizations Outside Brockville
50 items/3 weeks
Student/Teacher/Social Service Provider – working in Brockville
School, Business, Agency, Organization
Internet (10 years old +)
* Note that all cardholders must pay for the value of missing and lost items on their library account. No portion of the non-resident fee is refundable.
Please remember to notify the Library in the event of a change of address and/or contact information.
Access Your Online Account
To access your library record through the Online Catalogue, you will need:
Your 14-digit Brockville Library card number
Your PIN#, which can be obtained in person, at the Library
Borrowing Library Materials
Borrowing Limit/Card Daily
Books, Magazines, Audiobooks, CNIB discs*
MAPsacks, Geocaching kits & umbrellas
Fishing rods, tackle boxes & nets
Failure to comply with the Library's policies and code of conduct may result in suspension of library account.
*Items in high demand (high number of holds) will be subject to shorter loan periods.
Lost or Stolen Library Cards
If your card is lost or stolen, contact the library as soon as possible. You are responsible for materials borrowed with your card, or your child's card, until it is reported missing. We will issue you a new library card with a new number and deactivate your old library card.
Renewing Items
Material may be renewed for two additional loan periods, unless a hold has been placed on the item.
Materials may be renewed in the following ways:
Through your Online Account
Over the phone
In person at the Library
By email: info[at]brockvillelibrary.ca
Reserving Library Materials
You can place a hold on items* by using our Online Catalogue, by phone or in person. If you place a hold on an item that is currently borrowed by someone else, we will notify you by phone or e-mail when the item is available for pickup. We will hold the item for you for five (5) days. If you place an item on hold that is on the shelf, it will be available for pickup the following day.
Unfortunately, we are not able to guarantee an item for a specific day; items on hold arrive on a first-come, first-served basis.
*Not all library materials can be taken out of the building. If you cannot find what you're looking for, please contact the library.
Returning Items
Please return all materials on or before the due date. Items can be returned to the circulation desk as you enter the library or the external book return in the carport on George Street.